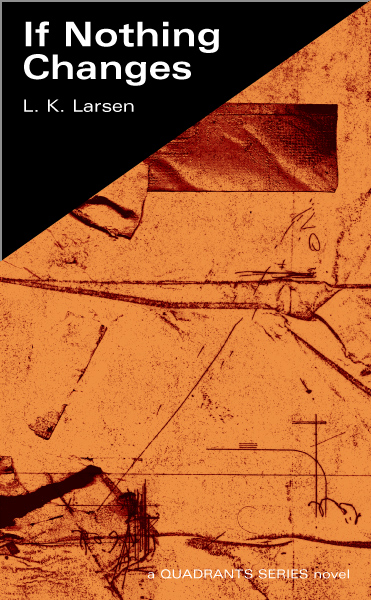 IF NOTHING CHANGES ISBN: 978-0-936050-36-2 EVENTS
author: L. K. Larsen www.LKLarsen.com
200 pp., 6.875 x 4.25 in., offset, paper covers
$10 > purchase here / or $45 for 5 book Quadrants Series Set
Also available as an e-book. Buy it directly from your favorite e-book provider.

Set in Northern New Mexico, on the day before the Chimayo Good Friday pilgrimage, If Nothing Changes follows five people and their intersecting lives, as they are transformed by their journey and attempt to come to terms with death, addiction, loyalty, penitence, forgiveness, and hope. A deft storyteller, L. K. Larsen ventures into a mysterious sub-region of New Mexico, the cross-cultural otro mundo district, traversing multiple simultaneous realities in the span of a day. Larsen proves to be a grounded witness to quintessential Nuevo Mexico. The novel is saturated with the landscape and the history of the area but lyrical and expansive in style. It feels like it already belongs in the canon of norteño writing.
excerpt: The land was there before them and would be there long after. It was made up of all the people and all the things that had passed through. When Berto was a kid, the group of boys he hung out with during the summer would climb around rocks with petroglyphs—ancient graffiti. Someone was always trying to make their mark, to say; I was here, this is mine.
L. K. LARSEN grew up in Havertown, Pennsylvania, and has lived in New Mexico since 1973. She received an MFA in Creative Writing from Antioch University and a Recursos 2000 Discovery Award for her poetry and short works of fiction. This is her first novel.

• "Tradition births transformation in the cultural cradle of northern New Mexico in this lush, layered story of personal loss and discovery. Larsen beautifully evokes the magic and mystery of Chimayo's age-old pilgrimage of faith to reveal the potent alchemy of life, time, and landscape." —Carmella Padilla
• Mary-Charlotte Domandi interviews Quadrants Series authors, including L. K. Larsen, on the "Radio Cafe," KSFR 101.1 FM ((( play audio )))


THE QUADRANTS SERIES debut novels by seasoned writers