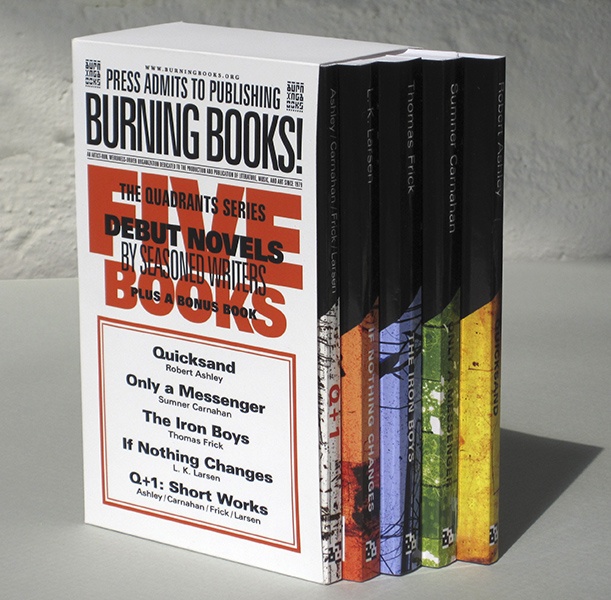 THE QUADRANTS SERIES ISBN: 978-0-936050-38-6
• BRONZE MEDAL WINNER in Anthologies, 2013 IPPY Independent Publisher Book Awards
• WINNER in Cover & Jacket Design, Southwest Book Design & Production Awards for Excellence, 2012
$10 each or $45 for the 5 book set in a slipcase > PURCHASE here
Also available as individual e-books. Buy them directly from your favorite e-book provider.

The Burning Books QUADRANTS SERIES is a boxed-set of pocket-sized debut novels by Robert Ashley, Sumner Carnahan, Thomas Frick, and L. K. Larsen. In addition to one novel, each author also contributes to Q+1: Short Works, which includes micro fictions, tall tales, absurdist prose, and classic short stories.


QUICKSAND "I wanted to make an opera libretto from a mystery story, told verbatim. That meant I had to write a mystery novel. I found an inspiring location soon after I started looking. Everything in the novel is true, except for a lot of the facts." —Robert Ashley • read review in ForeWord

ONLY A MESSENGER A young scientist decides to "devote his life to finding her killer." A tale of tragedy, betrayal, and redemption is revealed through David's notebooks, and the diaries of a visionary Oaxacan girl, Colibri, who have two very different approaches to knowledge of the natural world. • read Charles Shere's review here

THE IRON BOYS is an eccentric monologue by one Corbel Penner who brings the reader deeply inside the mentality of another time. Corbel becomes a member of a quasi-Luddite band of rebels in the early 1800s. The story conveys the dislocations, the idiocies and inspirations, accruing as a social contract is frayed. (This book is out of print. The few remaining copies are only available in this limited edition boxed set.) • read review's in EXPLORINGfictions and Chamber Four

IF NOTHING CHANGES On the day before the Chimayo Good Friday pilgrimage, five people are transformed during their journey through a mysterious sub-region of New Mexico. Saturated with landscape and history, the characters come to terms with addiction, death, loyalty, penitence, and forgiveness. • "This lush, layered story of personal loss and discovery reveals the potent alchemy of life, time, and landscape." —Carmella Padilla


• Readings & Booksignings >> September–October 2012 •