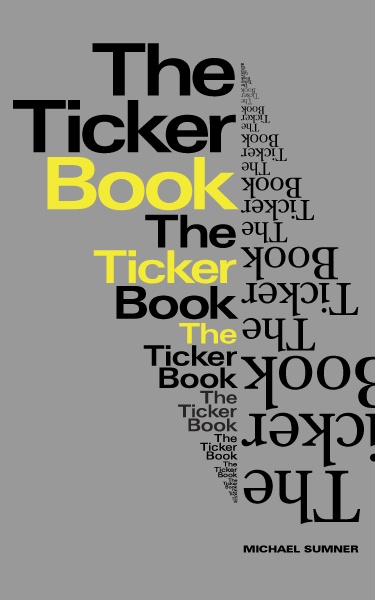 THE TICKER BOOK ISBN: 978-0-936050-49-2
author: Michael Sumner
128 pp., 6.875 x 4.25 in., offset, paper covers
On February 17, 2014, Michael Sumner extracted a large chunk of his Facebook "ticker." It was 18,570 words long and contained evidence of the activities of 182 of his friends. This book is a presentation of all that material. It is unedited. All the paragraphs were simply "sorted" alphabetically. Nothing was added or deleted.

[A] pleasing and somewhat alarming artifact. I'm so glad to see the designation "Anthropology/Archaeology" on the back—the lost or dying craft of physical subject placement in real bookstores! I mean otherwise it might up in . . . Poetry . . . or . . . History . . . ? There is much more in it than meets the early untrained eye, and it prompts so many thoughts, like what if this were one of the few texts to survive 2500 years, like the early pomes in the Greek Anthology? "Maria Bodman likes Dick and the Beavers." "Maria Bodman commented on Cok Diah's photo: itu Clinique jug?" I mean, Maria Bodman might be as famous as Sappho. The Ticker Book is very much a media probe, the term Marshall McLuhan used.
— Thomas Frick
The cross-referencing of a brief moment in web time turning page after page feels so irreplaceably better than the experience of clicking from page to page in the digital moment.
— Nicholas Chiarella
Looking through this book (and I have much more looking to do) has given me a new awareness of history as it pertains to the minor behaviors of social media. I heartily recommend checking out the book (even if you're not featured in it).
— Dave Ruder
$9.00 / free shipping in the US